Home
/ Company Profile
Company Profile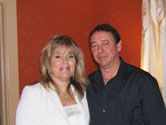 Dan Wood was born in the Glens Falls in 1956. He grew up in the immediate area graduating from Queensbury High School in 1975 with majors in mathematics, arts, and industrial arts. He immediately sought employment in the construction industry.
After working for several years as a heavy equipment mechanic in a local construction company, He than decided to work with some friends as an Industrial electricians helper. This lasted about a year and had learned the trade to a level of supervision among his peers. This was fine for about ten years, Electrical Foreman in many local mill expansions, and large projects on the road, within a hundred mile radius of home, But still not His calling.
In 1987 Dan started his own construction company, Wood's Contracting Company, Until 2002, Dan was mainly a remodeling contractor for residential projects, consisting of interior and exterior alteration, Home additions and three larger homes complete, but then was given the privilege of building The Church of the King, on Bay Road, in Queensbury. After its completion, Dan was called to build yet another area church, A commercial restaurant and is currently working on several area homes.
Dan has now teamed up with Robar General Funding group which is a division of Bardin Homes. We can help our customers aquire a construction or mortgage loan at the best possible rates in the industry. You can apply directly on line from our SelWood Homes page with just a few simple clicks . PLEASE feel free to call or email any questions regarding the types of service we can provide.
If you need an honest and truthful team for a construction project, Call Dan Wood Builder to discuss your plans and see if we can help.